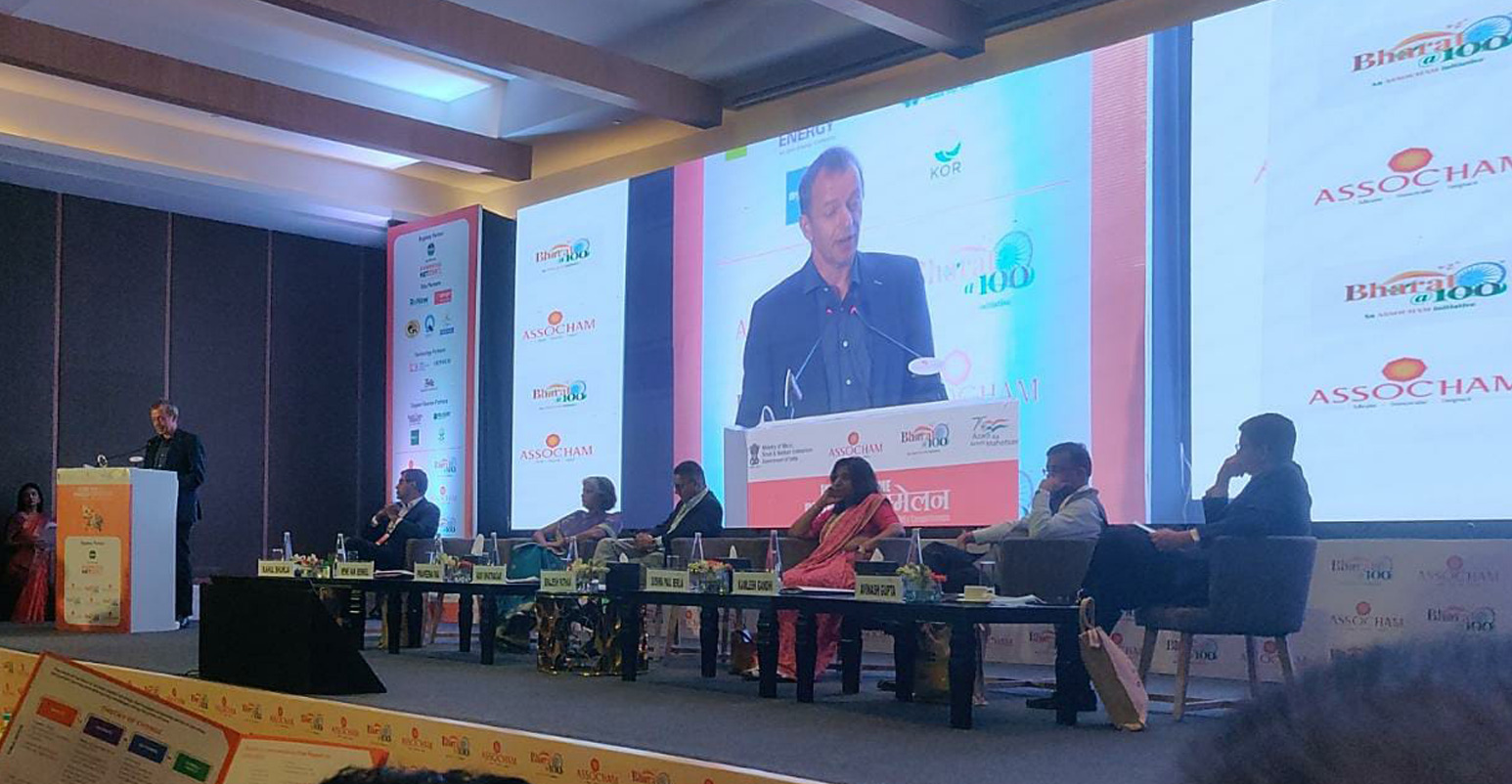 World MSME Day 2022: Modernization, greening and formalization of MSMEs is the need of the hour
On World MSME Day 2022, Dr. René Van Berkel address the Uttar Pradesh MSME Sammelan organized by ASSOCHAM. The aim of the event was to discuss the potential growth of the MSME sector, and providing a platform to discuss and review the progress of the sector in the state.
Talking about the current status of MSMEs, Dr. Van Berkel said that many manufacturing MSMEs are operating in limelight and require modernization, greening and formalization to meet ambition of Atmanirbhar Bharat.
Before pandemic, around 6.3 crore MSMEs were providing an estimated 11.1 crore jobs across India. MSMEs have been severely hit by the pandemic, with the services sector being more affected than manufacturing.
In UP, eight MSME component manufacturers for Tata Motors and Spark Minda implemented 750 improvement measures that improved on time delivery by 99% and reduced customer returns by 89%, whilst improving health and safety and saving Rs 13.3 lakh annually.
UNIDO also supports the Muzaffarnagar paper cluster with productivity assessment and training through the National Productivity Council (NPC). The Central Pulp and Paper Research Institute (CPPRI) is customizing appropriate technologies to Indian industry conditions. With the Bureau of Energy Efficiency (BEE), UNIDO focused on improving energy efficiency in the Khurja ceramic cluster. A cluster-specific technology compendium was developed and promoted, including 19 specific technologies, covering kiln operation, raw materials handling, utilities and renewables. Depending on unit specific conditions, 14 of these typically have a pay back within two years. Energy advisory was provided to 60 MSMEs and facilitated a cumulative investment of Rs 1.5 crore, to achieve annual energy savings of 651 tonnes of oil equivalent and cost savings of Rs 2 crore and mitigate 2,100 tonnes of greenhouse gas emissions. Also with BEE, UNIDO supports cleantech innovation and entrepreneurship. New Leaf Dynamic Technologies was supported to demonstrate and validate the use of farm waste for refrigeration, reducing specific power consumption by 90%.
Inficold demonstrated a retrofit solution that instantly chills milk to 4-6 degrees and can keep it at that level without back up power for up to 12 hours. A typical 1,000 litres bulk milk collection centre can reduce diesel consumption by 2,100 litres annually.
As a way forward, Dr. Van Berkel said that modernization, greening and formalization is the need of the hour for MSMEs in UP and elsewhere in the country. "This is doable and offers diverse benefits to employers and employees, consumers, public health, environment and society at large. Progress is though conditional on innovation – in the way MSMEs are publicly perceived, supported and financed, in MSMEs' access to appropriate technology, manufacturing excellence and digital solutions, and MSME's own commitments to quality, decent work, environmental compliance and responsible business."