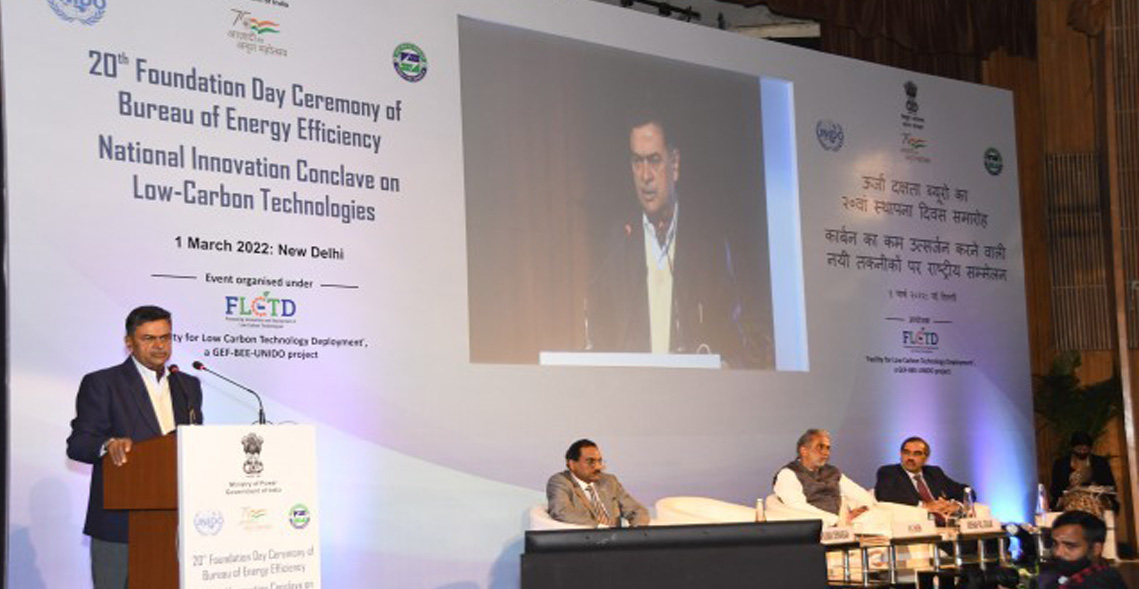 National Innovation Conclave on Low Carbon Technologies
1 March 2022, New Delhi: On the occasion of the 20th foundation day of the Bureau of Energy Efficiency (BEE), the National Innovation Conclave on Low Carbon Technologies was held in New Delhi. It provided a platform to present the innovations that have demonstrated benefits of energy savings and greenhouse gas emission reduction potential when deployed at a large scale in industrial and commercial sectors.
In particular, the event showcased innovations that have been developed and validated technology solutions with the support of the Facility for Low Carbon Technology Deployment (FLCTD) project and recognized those who have successfully commercialized their innovations. More than 35 innovations supported under FLCTD participated in the exposition organized under the event.
Speaking at the conclave, R.K. Singh, Union Minister of State for Power, New and Renewable Energy, Government of India said, "Industries and other stakeholders of the economy should look beyond compliances and consider innovation as a competitive advantage and not as cost centres. Stakeholders should come together to form a common-sectoral roadmap to meet emissions target and explore existing innovations".
FLCTD is financed by the Global Environment Facility (GEF) and is being implemented by the United Nations Industrial Development Organisation (UNIDO) in collaboration with BEE. The project was launched in 2016 to identify innovative energy efficiency and low carbon technology solutions that address the existing technology gaps in the Indian industrial and commercial sectors. Customized Energy Solutions (CES) is a partner to the project for outreach and validation support in the electrical energy storage technology vertical.
Krishan Pal Gurjar, Union Minister of State of Power and Heavy Industries, said, "For India to achieve its revised emissions intensity reduction target of 2030 would require far more efficient technologies than what is currently available in the market. The challenge is too large to pick and choose – we need all possible innovation."
Shri Anil Agrawal, Additional Secretary, Department for Promotion of Industry and Internal Trade, Government of India also awarded certificates to the start-ups that completed the FLCTD Accelerator Programme, supported by Sangam Capital Advisors.
Speaking at the event, Dr. René Van Berkel, UNIDO Representative, Regional Office in India said that nothing less than carbon neutrality will suffice, which will require tremendous innovation."
A compendium of the FLCTD Accelerator was released and a certificate was given to the winners who have completed the demonstration and validation of the innovation with the financial support of the project.
The conclave focussed on the potential and challenges of low-carbon innovation as well as financing towards commercialization and scale-up amidst stakeholders from government, industry, and academia. The conclave had sessions on current FLCTD winners' technologies, investments in cleantech innovation, and FLCTD's Accelerator programme.
Since 2018, the FLCTD project has conducted four rounds of innovation challenges. As of date, the project has received 558 applications against the innovation challenges and 59 winners were selected by the expert panel members. The project will provide ₹ 18.55 crores to the winners to validate the innovation in actual field conditions.
Until now, 10 technologies have been validated, seven are under the final stages of validations and nine technologies got commercialized. A total of 1459 GWh annual energy saving with over a million tons of annual GHG reduction has been realized.
In addition to the innovation challenge, FLCTD Accelerator Program began to provide training and mentoring support to start-ups who are in the early stage of developing clean technology solutions since 2019. It has collaborated with 'Start up India' to select the start-ups for the 4-month Accelerator programme, in which industry personnel and innovation challenge winners provide hands-on guidance to improve their business prospects.