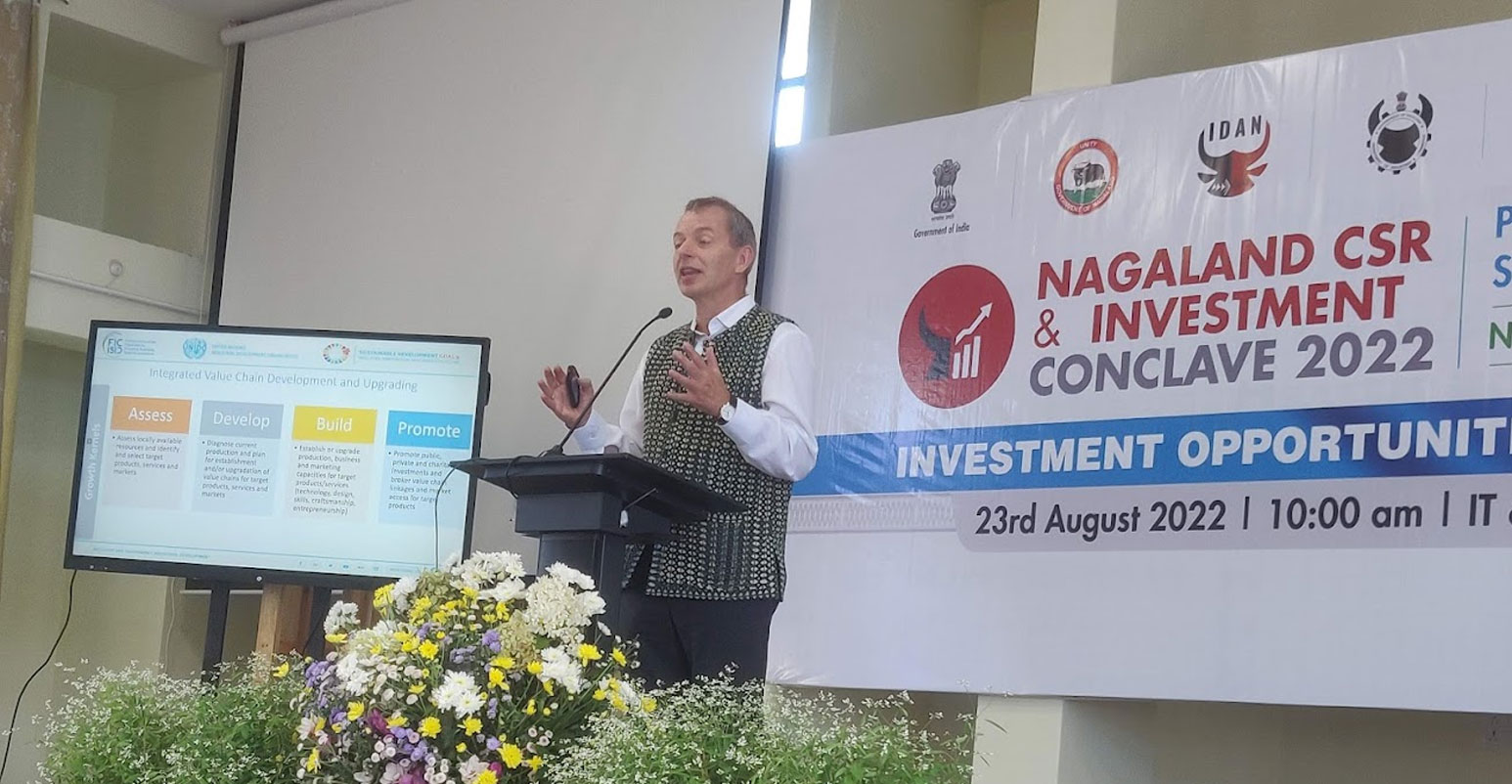 Nagaland Corporate Social Responsibility (CSR) and Investment Conclave
Kohima, Nagaland; 22-23 August 2022: In an effort to facilitate investment into inclusive and sustainable industrial development in the Indian state of Nagaland, UNIDO participated in the Nagaland Corporate Social Responsibility (CSR) and Investment Conclave in Kohima, hosted by the Investment and Development Authority of Nagaland (IDAN).
The Conclave was inaugurated by the Honourable Union Minister for Finance and Corporate Affairs, Smt. Nirmala Sitharaman and the Chief Minister of Nagaland, Shri Neiphiu Rio. The aim of this first-of-its-kind CSR Conclave in Nagaland was to highlight achievements, opportunities and challenges for socio-economic development in the state. A wide range of stakeholders including policymakers, the private sector and investors participated in the event.
Long considered the 'wild east' of India, the state is endowed with huge untapped natural resources. The economy of the region is largely driven by agriculture, which provides livelihood to nearly 70 percent of the population. Agriculture also provides a strong foundation for opportunities in establishment of new industries in the region, with higher employment generation potential and higher wages. Given the state's endowments vis-à-vis its cultural diversity, natural resources and fertile land, its development prospects are improving with the Government's Act East policy, major road, rail and air infrastructure investments, reduced conflict and improvements in education and health.
Dr. René Van Berkel, UNIDO Representative, Regional Office India addressed a session on Investment Opportunities in Nagaland. Speaking on the topic of 'Capacities and Ecosystem for Absorbing Investments in Nagaland,' Dr. Van Berkel introduced the concept of inclusive and sustainable industrial development, and its relevance for Nagaland with a view to establish industries and value chains that would attract meaningful and long-term investments. Elaborating further, Dr. Van Berkel provided a framework focusing on value chains with low physical and resource footprints, yet with high people and community engagement potential. It was suggested that this would require three-pronged approach: development and implementation of industrial policy making capacity; focused development of growth kernels, i.e., specific industries and value chains with high value addition capacities; and creating entrepreneurship competencies and ecosystem. Taking into account the state's inherent advantages in terms of natural resources and culture, three main categories of sectors were identified: horticulture (fruits, spices); forest resources (aromatic/medicinal plants, honey, bamboo) and cultural resources (handicrafts, textiles).